Become a UI designer
in under 9 months
Learn flexibly online
without having to quit your job
Work with expert mentors
and build your portfolio
Get a free
UI Design Short Course
Get a free
UI Design Short Course
Our graduates now have tech jobs all over the world
UI Design Program details
In this program, you will
Learn all of the skills, tools, and processes necessary to become a UI designer
Work with a Mentor who has over 5 years of industry experience and a Tutor for your day-to-day feedback
Receive tailored coaching from our Career Services Team to ensure you stand out at interviews
Build an impressive portfolio out of the real-world projects you complete on the program
Land a job as a UI designer within 180 days of graduating from the program—or your money back
Fully online
4.5 months at 30 hrs/week or up to 9 months at 15 hrs/week
Mentorship
Our UI Mentors are rated 4.9/5 from over 4000 student reviews
Career support
Free job preparation course and expert career coaching included
Why become a UI designer?
A creative job you will love
UI is a satisfying job if you are curious about human behavior and passionate about how design shapes the products and services around you. UI Designer was rated as one of the 100 best jobs in America for 2017.
High demand means high pay
Employers struggle to find qualified UI designers and the demand keeps growing. The average Junior UI Designer salary in the United States is $74,953 per year, while Senior UI Designers can earn as much as $107,086.
A flexible career path
As a UI designer, you will have the opportunity to work for startups, agencies, large corporates, on a freelance basis, or even remotely.
Discover more reasons here
Why choose CareerFoundry?
Human-centric learning
Our two-person mentor model ensures that you get all the support you need. You'll have a Tutor—an experienced UI designer responsible for evaluating your exercises within 24 hours of submission, and a Mentor—a UI industry expert who gives detailed written, video, and on-call feedback on your portfolio pieces.
Flexibility with accountability
Study at a flexible pace within the 9-month program duration, working a minimum of 15 hours per week. Your Mentor, Tutor, Student Advisor, and Career Specialist will help you stay on track and accountable.
Successful, satisfied graduates
With 96% of our eligible alumni getting a tech job within 180 days of graduation at top companies including Google, Apple, and Amazon, you can be confident that taking the program will get you where you want to go—working as a UI designer in a job you love.
Discover more reasons here
Without CareerFoundry I would not have my new job. They helped me double my salary from my last job!
Success Stories
Our students go on to launch challenging new careers in the tech industry
Portfolio projects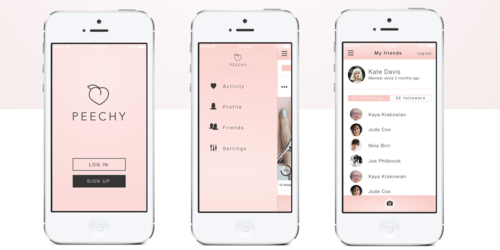 Kamila's Fashion App Project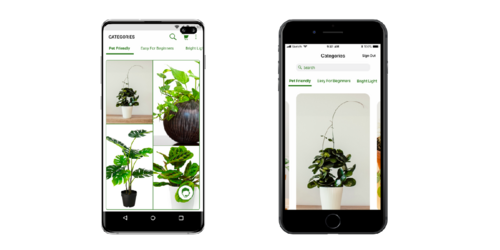 Manali Joshi's Project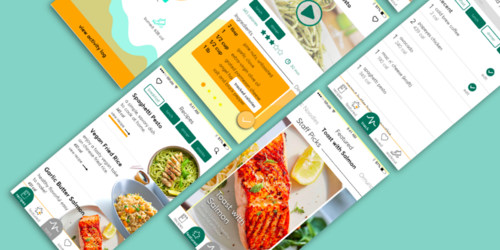 Megan's Health Management App
Our graduates now work at...
UI Design Program admission criteria
What you need:
The motivation to transform your career
The program requires commitment as it takes about 360 hours to complete. You should be prepared to set aside at least 15 hours per week to study.
A computer (Mac or PC) and an internet connection.
An interest in UI design
If you are already reading books and blog posts about UI, that is a great sign. If you are unsure that UI is really for you, you can find out in the following ways:
What you don't need:
A background in design or tech
You don't need a college degree or previous work experience that is related to design or tech in order to be successful on the program or land a job. The program has been built to take you from beginner to job-ready. A study by job board Indeed found that 84% of employers think bootcamp grads are 'more prepared' or 'just as prepared' to be high performers as degree holders. (Indeed)
Unlimited free time
You can study part-time alongside your job with an average of 15 hours per week to finish the program in 9 months, which is the maximum program length. You can also complete the program faster than this by committing more than 15 hours per week to the coursework.
To learn all on your own
The program combines the flexibility of online learning with the accountability and one-on-one attention traditionally associated with brick-and-mortar institutions. Much like a college professor might inspire you to pursue a career in a certain field, your Mentor, Tutor, Career Specialist, and Student Advisor will all help keep you motivated and on track.
Price and Payment Options
UI Design Program
96% who are eligible get a tech job within 180 days of graduation
Mentor and Tutor

Job Guarantee

Create a job ready portfolio
You get...
A project-based curriculum
Build a portfolio and learn the essential skills that employers need.
An expert Mentor and Tutor
Learn faster with the support of two dedicated teachers. Benefit from timely feedback and a wealth of knowledge.
A Career Specialist
You will get personalized help with mock interview practice and polishing your resumé, LinkedIn profile and portfolio — everything you'll need to impress future employers.
A Job Guarantee
We back our program with a job guarantee because we know it's great. 96% of our eligible alumni land a design job within 180 days of graduating.
FAQ
1.
Do I need to take both the UX and UI programs to learn about both disciplines?
No, each program covers UX and UI design, so you do not need to take both programs if you're aiming to learn about the two disciplines. While UX and UI design are similar in many ways, and most designers dabble in both professions at some point in their careers, we have built our programs to support budding UX and UI designers separately, while also ensuring they gain other, in-demand skills.

If you'd like to train as a UX/UI designer with a focus on UX design, take the UX Design Program. If you want to train as a UX/UI designer with a focus on UI design, take the UI Design program.

Along the way, both programs provide opportunities to learn about and develop fundamental skills in the other field, helping you become a more well-rounded candidate for your design job. Which program you should choose will depend on which area you would like to focus more on in your career. Do some reading and research, and talk to others in the field to learn more about which tech career path is best for you.
2.
Are there payment plans available?
Yes, you can select a monthly payment plan of Note: You will be required to pay the full duration of the payment plan even if you graduate before the payment plan ends.
Still doesn't work for you? Book a call with a Career Advisor and see if you are eligible for a custom payment plan.
3.
What's the refund policy if I change my mind?
If you start the program but are not completely satisfied, simply cancel within 14 days and receive a full refund.
If you enroll and for some reason want to cancel before you've completed 60% of the program, you get a prorated refund based on remaining time and your payment plan details. See the full terms and conditions here.
4.
What's the "catch" for the job guarantee?
The requirements you'll need to meet to be eligible for the job guarantee are based on what we know from experience will make graduates successful in their job search. We are very transparent about these requirements so that they're easier for you to follow. Some of the requirements include: You have successfully completed 100% of your CareerFoundry program, you are applying to at least five jobs a week, and you live in a metropolitan area with a population above 200K people in any of the following countries: USA, Canada, European Union or EFTA countries, UK, Australia, or New Zealand (or you're willing to relocate). Check out our terms and conditions for a complete list of requirements. Or connect with one of our Career Advisors to find out if you would be eligible for the job guarantee.
5.
What kind of job can I get after the program?
You will be ready for "Junior UI Designer" or "UI Designer" roles based on the curriculum. If you have transferable skills from your past career, you can potentially get a more senior role by crafting the right story with your Career Specialist. Many job ads for UI designers ask for 2+ years' experience, but it is very often part of their "wishlist" rather than a requirement.
6.
Do I get a certificate at the end?
After you graduate, you will receive a certificate to make your new qualifications easy for employers to see.
7.
What does ZFU-approved mean?
The ZFU, or Staatliche Zentralstelle für Fernunterricht, is the state body for distance learning in Germany. In order to offer our UI Design Program publicly, it must undergo a rigorous quality assurance and certification process. On successful completion of this process, the program is assigned a unique approval number (7330218) which can be checked against a public register.


8.
Is UI design a secure career choice?
The technology industry keeps growing and with it the demand for UI designers. According to a recent survey conducted by PayScale, job growth for User Interface Designers is predicted to grow by 27% from 2014-24.
9.
Are there program requirements?
You need to have at least a B2 level in written and spoken English, a computer, and an internet connection.
10.
How long does the program take to complete?
The program is flexibly-paced within a 9-month duration. There are three deadlines along the way these are in place to ensure you remain on track. You should expect to put in approximately 15 hours a week, but you can allot more time in order to graduate sooner.
11.
Is the program 100% online?
Yes, the program is entirely online so that you can study flexibly according to your own schedule. You get access to our active student community on Slack and, after the program, you will have a global network of other ambitious alumni and mentors to support you.
12.
Can I take the program for free?
We do not offer any full scholarships or funds at this time.
13.
What if I have a question that isn't answered here?
How would you like us to contact you?
Book a time to speak to a Career Advisor
Send us your questions and we will email you back as soon as we can.
Thank you!
Our Career Advisor will be in touch with you shortly.