5 Study Hacks for Beginner Data Analysts!
16 January 2023
5:00 pm
Online
Career Change , Data Analytics
Learning data analytics doesn't have to be hard.
In fact, there are plenty of simple methods that can help you learn and study effectively––you just need to know the inside tricks!
Watch this recording of a CareerFoundry live event as Alex Freberg (YouTube's "Alex The Analyst") shares his tips to make learning data analytics simpler.
This is the perfect session for anyone considering a future career in data analytics.
Adopt these study hacks and you'll find yourself improving as the days go by.
If you're keen to dip your toes into data analytics, why not try our free introductory data analytics short course here.
In need of some further reading?
Check out the following articles:
Featured presenters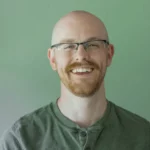 Alex Freberg
Analytics Manager
Alex Freberg is an Analytics Manager, best known for his YouTube channel "Alex The Analyst" where he has garnered over 250k subscribers. He teaches and provides advice on all things analytics and hopes to demystify the data industry to make it more accessible to everyone.