Designing And Prototyping With Figma
12 January 2021
6:00 pm
Online
UI Design , UX Design
What is prototyping?
Want to learn more about prototyping? Here's a quick introduction, with loads of resources to learn more. 
Prototyping is the fourth stage in the design thinking process—and it's the most "presentable" stage of the process, even if you're doing rapid prototyping (a much faster and more iterative version). Where wireframing is a quick and dirty process of sketching out your design solutions, prototyping moves the process closer to what the product—or at least that part of the user flow—will look like in the end. 
The goal of prototyping is to put your design solutions in action, in a way that allows you to see if they're actually effective in addressing users' needs and goals. 
Broadly speaking there are three kinds of prototypes: low-fidelity prototypes, high-fidelity prototypes, and the ones in the middle. 
Low-fidelity prototypes are a very loose sketch—perhaps closer to a rough mockup. No need to worry about UI elements or microcopy here! Sketch in a little box in place of a button, blank lines in place of copy, and placeholders for images. Low-fidelity prototypes are great for initially testing an idea.
High-fidelity prototypes are the opposite—much more detailed, and unless you're a designer with UX and UI experience, you'll probably team up with others to get this one done. High-fidelity prototypes seek to get as close as possibly to what the final product will look like. The highest fidelity prototypes even work in animation and other functions so that you can move through the prototype just like your users would.  
And mid-fidelity prototypes fall right in between these two in terms of detail and time investment.
As a new or aspiring UX/UI designer, you'll be expected to be familiar with a full suite of industry-standard design tools—and to specialize in at least a few of them! But how do you know which prototyping tools are worth taking the time to learn? Check out our list of the best prototyping tools on the market—that should get you started!
Featured presenters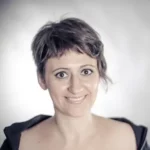 Olga Voskoboinikova
UI Design Mentor
Product Designer (UI+UX) with B2B and B2C experience, having worked in companies from 3 to 7000 employees for 10+ years in 3 different countries. Olga loves sharing her knowledge and inspiring the next generation of UI and UX designers.