How to Find Your UX Design Niche
13 April 2021
6:00 pm
Online
UX Design
How to find your UX value proposition
Wondering how you can stand out in the competitive UX job market? You need to identify your unique UX value proposition and carve out your niche! But this might seem easier said than done. 
Whether you're an aspiring or seasoned UXer, standing out in the job market has never been more important. You need to be able to show potential employers what makes you a unique and valuable addition to their team. 
But that doesn't happen on its own! It starts with taking the time to understand and identify your UX value proposition—the unique skills, experiences, and value that you bring to a UX role. You need to find this niche—what sets you apart from all the other candidates applying for the same jobs.
Start by considering your soft skills. Ask yourself:
What interpersonal, collaborative, and communication skills do I have, and what specific experiences have allowed me to cultivate these in unique ways?

What life and work experience have taught me the empathy I exercise in my role as a UX designer?

How do I cultivate my curiosity and seek to learn continuously? 
Then move to the more technical skills you've developed—user research, information architecture, prototyping, wireframing, usability testing, and more. While these might seem like the "standard" skills every UX designer would have, take the time to think about how you've exercised those skills in unique ways. It can also help to look at how the projects you feature in your portfolio reflect your personal and professional values. Look for the connection between you as a person and the projects you've completed as a designer. 
Beyond that, don't forget to look at your past work experience for those valuable crossover skills that can really set your UX value proposition apart from the crowd of other applicants. What in your past work life has given you: 
A mind for business and strategy

"Above and beyond" research skills 

An understanding of what it takes to provide amazing customer service

Coding experience

Writing skills (particularly

UX writing

)
…and more. 
Once you understand all of this, you can define your personal brand for your tech career and communicate it through every part of your professional profile and throughout every application process. A strong UX value proposition sets you well on your way to success!
Featured presenters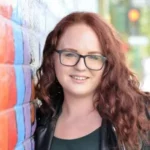 Sami Gardner
Sami Gardner is an experienced educator who has spent the last five years researching, teaching, and speaking on career development, branding, and LinkedIn. Every day professionals and Silicon Valley startups have utilized her diverse skills and insights into the job market, LinkedIn marketing, and professional branding. With a Master's in Library and Information Science, she combines a research and instruction skillset with practical experience gained through organizing events like the TRANS*FORM Employment Expo, hosting the Career Kickstart podcast, and writing the Job Prep curriculum for Europe's #1 tech boot camp. She has trained job seekers, freelancers, and companies on how to use LinkedIn at international conferences and speaking engagements in Lisbon, Berlin, Los Angeles, and Medellin.