How To Write Inclusive Copy
22 June 2021
6:00 pm
Online
UX Design
The words you write have the power to give people a sense of belonging within a user experience! Many UXers make the mistake of focusing primarily on the needs and goals of an "average user" and neglect attending to what they might call "edge cases"—the user needs that fall outside of the bell curve or statistical majority. 
Inclusive writing is a process that actively and intentionally seeks to include a broader spectrum of humanity in the micromoments of a user experience. Think inclusive design, but applied specifically to writing ✍️  
Instead of writing for the needs, goals, and demographics included in traditional user personas, you factor in the needs of Black, Brown, AAPI, and Indigenous people; people who are transgender and those whose gender is outside the binary (woman/man); those who are neurodiverse; people with disabilities; those who use assistive devices for any reason; people with mental health conditions/considerations; and really anyone else with a background, identity, or experience that is underrepresented or marginalized!
And why does inclusive writing matter? Simply put: because people matter. Whether you're looking to start a career in UX or you've got years of experience in the field, that's an important thing to keep at the center of your work. Empathy is at the heart of UX design, research, and writing. Beyond this foundation of empathy, it's also important to remember this: If we don't intentionally include, we risk unintentionally excluding.
When you approach the writing process with inclusion in mind, you're more likely to:
End up with an overall user experience that works better for everyone

Spot painpoints that are commonly overlooked

Make the user experience accessible and even delightful for an even broader audience than what you originally intended
Learn more about inclusive writing in this guide.
Featured presenters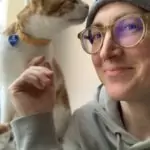 Emerson Schroeter
Senior UX Writer at HelloFresh
Emerson is a Berlin-based UX writer, plant dad, and cat servant. As a Senior UX Writer at HelloFresh, they're obsessed with inclusive and accessible design and spend (part of) their free time conspiring with Better Standards Club to find new ways to help other people raise their design standards