Learn Tableau in Under 45 mins!
31 May 2023
6:00 pm
Online
Career Change , Data Analytics
Interested in a career in Data Analytics? Book a call with one of our program advisors today to find out more: https://bit.ly/book_a_call_with_a_pro...
Are you ready to become a data visualization expert?
Look no further than our upcoming online event with Dr. Humera, Director of Engineering at eyeo and CareerFoundry mentor.
In just 45 minutes, Dr. Humera will guide you through the ins and outs of Tableau, the cutting-edge data visualization software used by businesses and organizations around the world!
Whether you're an analyst, marketer, or simply interested in data visualization, this workshop will provide you with the essential skills required to create insightful and engaging visualizations.
We'll cover the following topics using a real-world dataset:
1. Introduction to Tableau
2. Data Sources
3. Connecting to Data Sources
4. Creating a Basic Data Visualization
5. Filtering Data
6. Publishing a Dashboard
By the end, you'll have a solid understanding of how to use Tableau to create powerful visualizations that communicate data insights effectively. Don't miss out on this incredible opportunity to level up your data visualization skills.
Featured presenters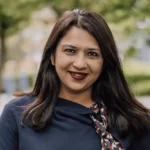 Dr. Humera Noor
Machine Learning Engineering Lead & CTO
Dr. Humera is a teacher at heart, a data scientist by profession, and an entrepreneur by mindset – striving to make a difference. Her passion for innovation, paired with her extensive experience in machine learning, has made her a trailblazer in the tech industry.Dr. Humera's dedication to education and mentorship has also made her an invaluable asset to the CareerFoundry community. Her guidance and expertise have helped countless students develop the skills and knowledge they need to succeed in tech. With a talent for making complex concepts accessible and easy to understand, Dr. Humera is an inspiration to aspiring data analysts.