Live Data Analytics Portfolio Review!
25 January 2023
5:00 pm
Online
Career Change , Data Analytics
What does a data analytics portfolio need to get noticed?
Don't worry––we've got just the break down.
Check out this recording of a LIVE portfolio review, as Alex Freberg (YouTube "Alex The Analyst") casts a critical eye over some compelling data analytics portfolios and provides constructive feedback.
This is a fantastic opportunity to learn exactly what goes into a professional-grade portfolio and watch a senior data analyst (and YouTube star) conduct a portfolio review in real-time.
Alex provides valuable insights with the power to transform your portfolio and take it to the next level.
During this event recording you'll:
– Learn what impresses employers in a portfolio
– Learn the musts for any good data analytics portfolio
– Find out how many projects to showcase, and more!
Featured presenters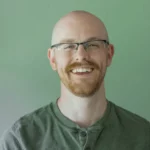 Alex Freberg
Analytics Manager
Alex Freberg is an Analytics Manager, best known for his YouTube channel "Alex The Analyst" where he has garnered over 250k subscribers. He teaches and provides advice on all things analytics and hopes to demystify the data industry to make it more accessible to everyone.