LIVE UX Portfolio Review
3 August 2021
6:00 pm
Online
UX Design
As a new, aspiring, or even seasoned UX designer, you've undoubtedly cultivated a skillset to help you land the project and roles you're most interested in. And the best way to showcase those skills? Your UX design portfolio. 
Your portfolio is one of the most important aspects of your professional profile—especially if you're actively applying for jobs (or planning to). So what is a UX design portfolio, why do you need one, and how do you build one that helps you stand out from other candidates? 
Let's take a brief look at all of this—and the articles we reference throughout will give you the resources you need to get started. 
What is a UX design portfolio and why do you need one?
A UX design portfolio is a collection of your design work that shows potential employers and clients who you are as a designer, what your design process looks like, the results of that process, and how you reflect and act on the learnings you gather along the way. 
You'll be hard pressed to find a UX design role with an application process that doesn't involve a good look at your UX design portfolio. It's your key to the door of the interview process. Now, there will be plenty of other prep you need to do—including crafting a stellar design resume and getting ready to ace whiteboard challenges of all kinds. 
But your portfolio is the component that will open the door to these opportunities. 
How to build an outstanding UX design portfolio
Here are five steps to building a truly job-winning UX design portfolio:

Include a memorable introduction.

This is a short statement that tells people who you are, why you do what you do, and what important guiding principles you follow. Make sure this is consistent with the

personal brand

you've developed.



Feature high-quality case studies.

Pick 3-5 of your UX design projects to feature in your portfolio and then tell the story of each project. Remember, it's not just about the results. Show folks your process—including how you learn from mistakes!

Quality case studies

will accomplish this.



Demonstrate reflexivity.

There are no great designers who don't reflect on their process, gather learnings, and iterate on their process the next time around. Show potential employers that you can do this—and that you can do it well



Make sure your portfolio website is user-friendly and polished.

It's important to walk the talk—companies don't want to hire UX designers who can't/haven't "UX-ed" their own portfolios. Similarly, if you have an online portfolio, make sure the UI design is fine-tuned and polished up. If UI design is not in your wheelhouse, there are lots of

UX/UI portfolio websites

you can use.



Look at other portfolios and get feedback.

Look at what other

UX designers are doing with their portfolios

and reach out to seasoned UX designers in your network (or your

UX design mentor

, if you have one) to get feedback on yours. You can even do some user testing with your portfolio by having friends or colleagues look it over and share their experiences and ideas for improvement.
That should get you started! Every resource we've linked here will help you explore further and refine your portfolio—as will the event (recording) at the top of this page!  
Featured presenters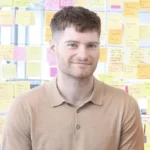 Jeff Humble
UX and Product Design Educator
Former Head of Design at CareerFoundry, Jeff is the founder of the Fountain Institute, which runs advanced UX courses. As well as helping coach hundreds of designers in their own learning, he cut his chops working in the field of product design.