Tutorial 3: The Different Areas Of UX Design
"Hi there! 💁How are you finding the course so far? Don't forget to give us your feedback—just reply to one of our emails. If there's something you think is missing or you'd like more information on a certain topic, do let us know. We'll get back to you straight away, and potentially add it to the course for future students. Enough "user research" for now, though—let's get started with tutorial number three!"
So what are we going to do today?
In the previous tutorial, we explored the typical UX design process. At the same time, we thought about the wide range of skills that a UX designer needs to possess. While this may have felt a bit overwhelming, you've probably already mastered quite a few transferable skills!
Today we're going to focus on specialist routes within the UX design field. Just as doctors might choose to specialize in certain areas, such as internal medicine or pediatrics, UX design also consists of generalists and specialists. You can focus on the UX design process as a whole, or you can specialize in a certain aspect. So, in this tutorial, we'll zoom in on some of the most popular UX design jobs and specializations available to those with UX skills. By the end, you'll have a good idea of where a career in UX might take you!
We've broken this tutorial down as follows:
Let's jump in.
1. An introduction to the UX design quadrant model
On top of the foundational UX design skills (like prototyping, user empathy, user testing, etc.), many UX designers also choose to specialize in one or two areas depending on their interests, skills, and the needs of their employer.
A great way to look at the specializations of UX design is through the lens of the quadrant model, which groups the field into four main disciplines:
While UX designers tend to be well-versed in all of the above fields, most will only choose to focus on one or two in their career. Let's take a closer look at each quadrant and their associated roles in more detail now.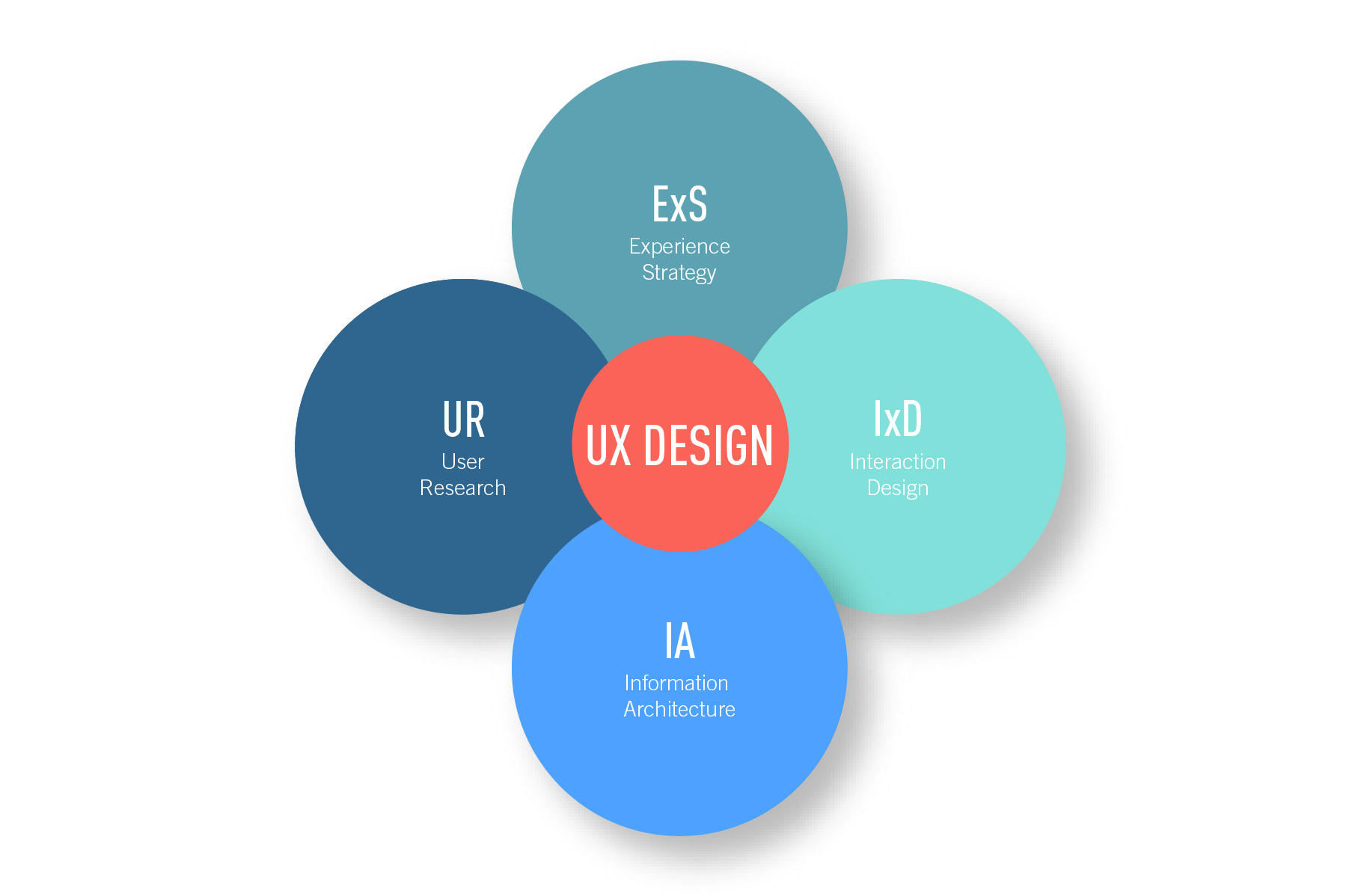 What is Experience Strategy?
UX design is not just about the user; it also brings huge value to the business providing the product or service. Experience strategy is all about devising a holistic business strategy, incorporating both the customer's needs and those of the company.
If you choose to focus on experience strategy, you might find yourself in the role of UX strategist. UX strategists work closely with both the design team and key business stakeholders (product owners, managers, etc.); it's their job to make sure that everyone is serving the right users while simultaneously aligning with the strategic goals of the business. In short, UX strategists see to it that all the moving parts of a business work together in harmony.
What is User Research?
You may remember from the previous tutorial that user research is a crucial component of the UX design process. Indeed, all UX designers must master the art of user research—and some will even choose to specialize in this area.
As the job title suggests, UX researchers focus on the research aspect of design. They conduct both qualitative and quantitative research, gathering in-depth insights into the target users. As a UX research specialist, you can expect to work closely with the product team to identify research questions, to plan and lead user research sessions (such as interviews, surveys, usability tests, etc.), and to share your insights in order to inform the product strategy. Some additional roles often associated with the user research quadrant include usability analyst and research analyst.
What is Information Architecture?
Information architecture is the science of organizing and structuring content in a logical, user-friendly way. If you're designing a website or app, the information architecture has a huge impact on how easy it is to navigate—so, as a UX designer, you'll need to understand the principles of IA.
If you decide to specialize in this aspect of UX, you could end up working as an information architect. Information architecture has roots in both cognitive psychology and library science—you can think of information architects as user-centric digital librarians! As an information architect, you may be responsible for assessing the IA of an existing product, planning the IA of a new product from scratch, labelling information, and creating wireframes and taxonomies.
What is Interaction Design?
Interaction design focuses on how a user interacts with specific elements of a digital product. This quadrant looks at the structure and behaviour of interactive systems, and how they can be designed and optimized for human use.
Interaction designers answer questions like: "What happens when a user clicks a button?" or "How will the user transition between different pages on a mobile app?" Ultimately, they look at how to reduce friction between the product and the user.
Based on the quadrant model, we've touched upon a few of the specialist routes you might take as a UX designer. But that's just the beginning! Let's explore some additional career paths that fall under the UX umbrella…
2. What are some other specialist career paths for UX designers? 
UX design is an ever-growing field, offering plenty of opportunity to both specialize and diversify. So what other job titles do UX designers end up procuring? Let's take a look.
UX writer
Written copy plays a crucial part in the overall user experience, and just like all the visual touchpoints, the words on the product interface also need to be designed! Dedicated UX writers are increasingly sought-after, and this is a great potential career path if you want to combine copywriting with UX. You can learn all about what a UX writer actually does in this guide.
Voice designer
The global voice and speech recognition market is estimated to be worth a whopping $31.82 billion by 2025—meaning that voice designers are in high demand! Voice designers apply UX principles in order to create user-friendly interactions with voice technology. They conduct research, create personas and placeonas, define the information architecture, and design user flows, scripts, and dialogs. You can learn more about the role of the voice designer here.
UX developer
Traditionally, designers and developers belong to two very separate camps. These days, however, more and more designers are choosing to pick up some frontend coding skills and become so-called UX developers. A UX developer is best described as part-designer, part-developer, and the role generally involves some visual design skills, too.
UX/UI designer
We touched upon the difference between UX and UI design in the previous tutorial—UX design is all about how the overall interaction with the product feels for the user, while UI is concerned with the visual, interactive elements. Still, it's not uncommon for UX designers to pick up UI design skills, and vice versa—you'll also notice that lots of companies advertise for UX/UI designers. You can learn more about how to interpret various UX designer job descriptions in this guide.
3. What kind of UX designer would you like to be?
As you can see, each of the different UX job titles has its own focus—however, there's inherently some overlap between the various roles. As a product designer, for instance, you'd be responsible for the overall experience strategy of a product, but you might also be in charge of ensuring that the information architecture is optimized based on the latest user research findings.
As a fresh-faced UX designer, there's no need to decide on an area of focus straight away. As you gather more experience in the UX design industry, you'll start to notice where your strengths and interests lie, and how they fit into the UX quadrants. This is part of what makes UX design such an exciting career path! It's such a varied field—you can explore and identify the perfect combination of skills that speaks to your unique strengths and interests.
4. Practical exercise: Are you ready to start thinking like a UX designer?
We've almost reached the end of tutorial number three, which means it's time for a practical task!
Today we explored the different areas of UX design and the various routes that a career in UX might take you. Your mission today is to identify some key UX influencers and try to categorize them into one or two of the quadrants. Where do their strengths and interests appear to lie? Do they match a particular job title?
Not sure where to start? Some of my favorite luminaries of UX include Jeff Gothelf, Yael Levey, Sarah Doody, Jared Spool, Jesse Showalter, and pretty much anyone from IDEO.
Trigger happy follow-finger? Head over to CareerFoundry on YouTube for more free video tutorials.
It's a wrap!
That marks the end of today's tutorial, and the halfway point of this course! In the next tutorial, UX design expert and mentor Tobias Treppmann will take you through the soft and hard skills required to make it as a truly great UX designer. Don't forget—the interactive quiz awaits you below!
Take the quiz below to make sure you've learned all the important information—and that it really sticks! 
Alana
Senior Program
Advisor