Get a free product design short course
Get an intro to product design, try exercises, and learn about career change
Receive 5 daily lessons that take around 15 minutes each
Find out if product design is right for you
What you'll get from this short course
Written by the same experts who create our full Product Design Program, this course will give you a thorough introduction to product design—from what it is and why it matters, to the skills you'll need to be successful in the field. This is an ideal starting point if you're new to product design and curious to learn more.
Each product design tutorial contains:
Written lesson
Hands-on task
Interactive quiz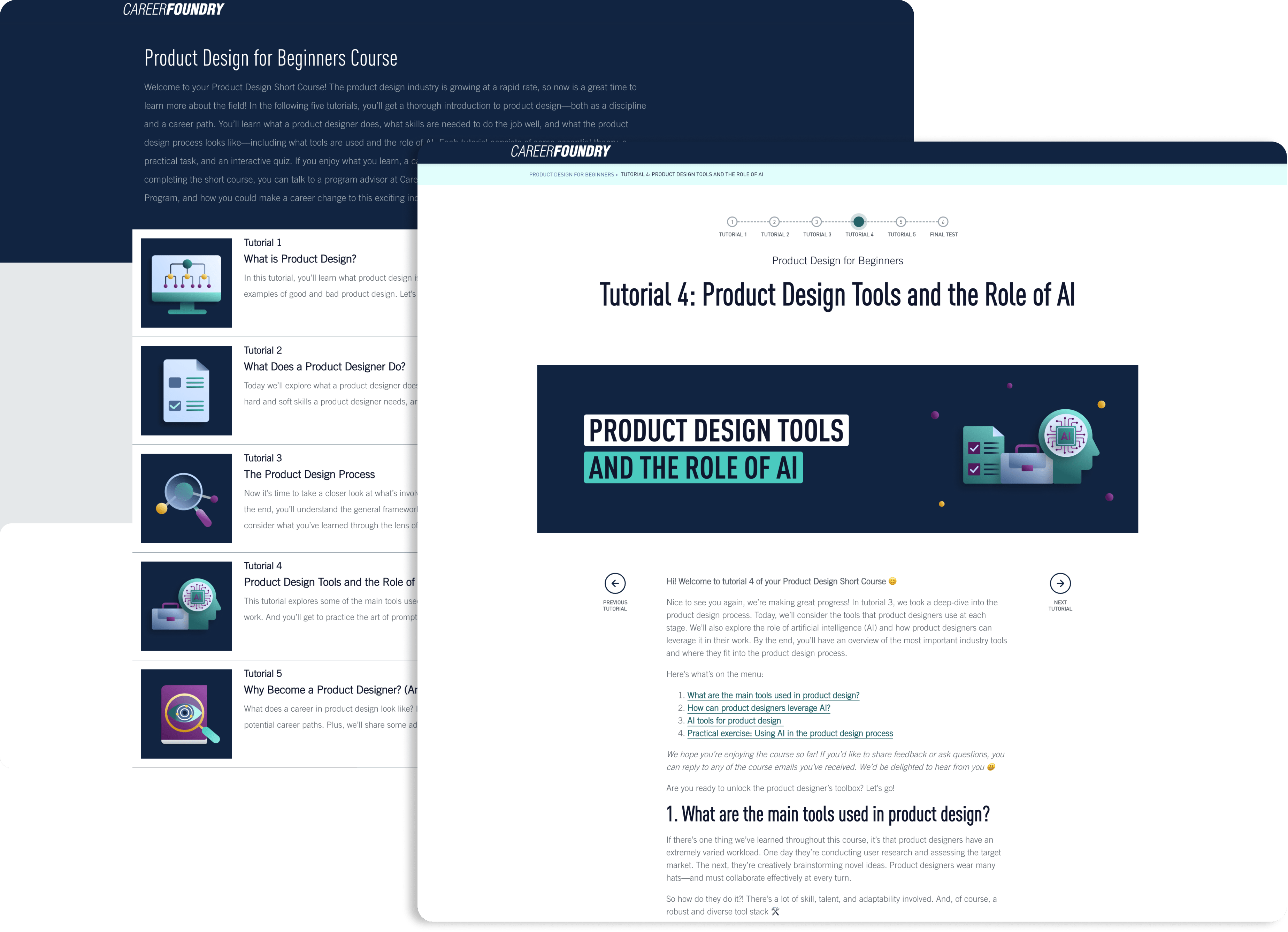 What is Product Design?
Learn the fundamentals of product design and get hands-on and evaluate examples of good and bad product design.
What Does a Product Designer Do?
Learn the most important hard and soft skills a product designer needs, and conduct a skills inventory in the practical task.
The Product Design Process
Explore the product design process from research and ideation to design, testing, and iteration.
Product Design Tools and the Role of AI
Discover the main tools used by product designers, and how product designers can leverage AI in their work.
Why Become a Product Designer? (And How To Get Started)
Learn about industry growth, salaries, and potential career paths for product designers.
Final test (optional)
Check your knowledge at the end of the course and get ready to launch your career change.
Do I need prior experience?
This course is designed with the absolute beginner in mind—you don't even need a background in product design or tech. It's an excellent starting point for your career-change journey.
Is this really free?
The course is cost and commitment-free. It's a great way to get a sense of whether you'd like to work in product design before you invest money in your career change through any paid programs or training.
How much time will it take?
The course is self-paced. Once you sign up, you'll get full access to the course. The tutorials each take around 15 minutes to complete, but you can complete them whenever it works best for you.
Learning with CareerFoundry
If you fall in love with product design during the free short course and want to pursue a career in the field, we're here to help! Our full Product Design Program will take you from beginner to job-ready product designer in as little as five months. The full program includes expert mentorship and career coaching, a rigorous curriculum that's in sync with the industry, hands-on projects, portfolio reviews, and a job guarantee. Everything you need to become a successful product designer!
Where our graduates make an impact
From small businesses and startups to the Fortune 500, our graduates are sought out by companies all over the world.
What our graduates say about studying with CareerFoundry