Tutorial 6: How to Become a UX Designer
Welcome to your final UX design tutorial! Let's look at everything you've done and where it fits into the bigger picture of what it takes to become a UX designer.
By the end of this tutorial, you'll:
Wrap up your course projects and present them to a professional audience
Understand what it takes to become a UX designer
Check your knowledge of UX and earn a 5% tuition reduction on the full program
Here's what we'll cover:
1. Quick review
So far in this course, you've learned what UX design is, what UX designers do, and what the current demand and salaries are for professionals in this field. By now, you're also very familiar with the Design Thinking process.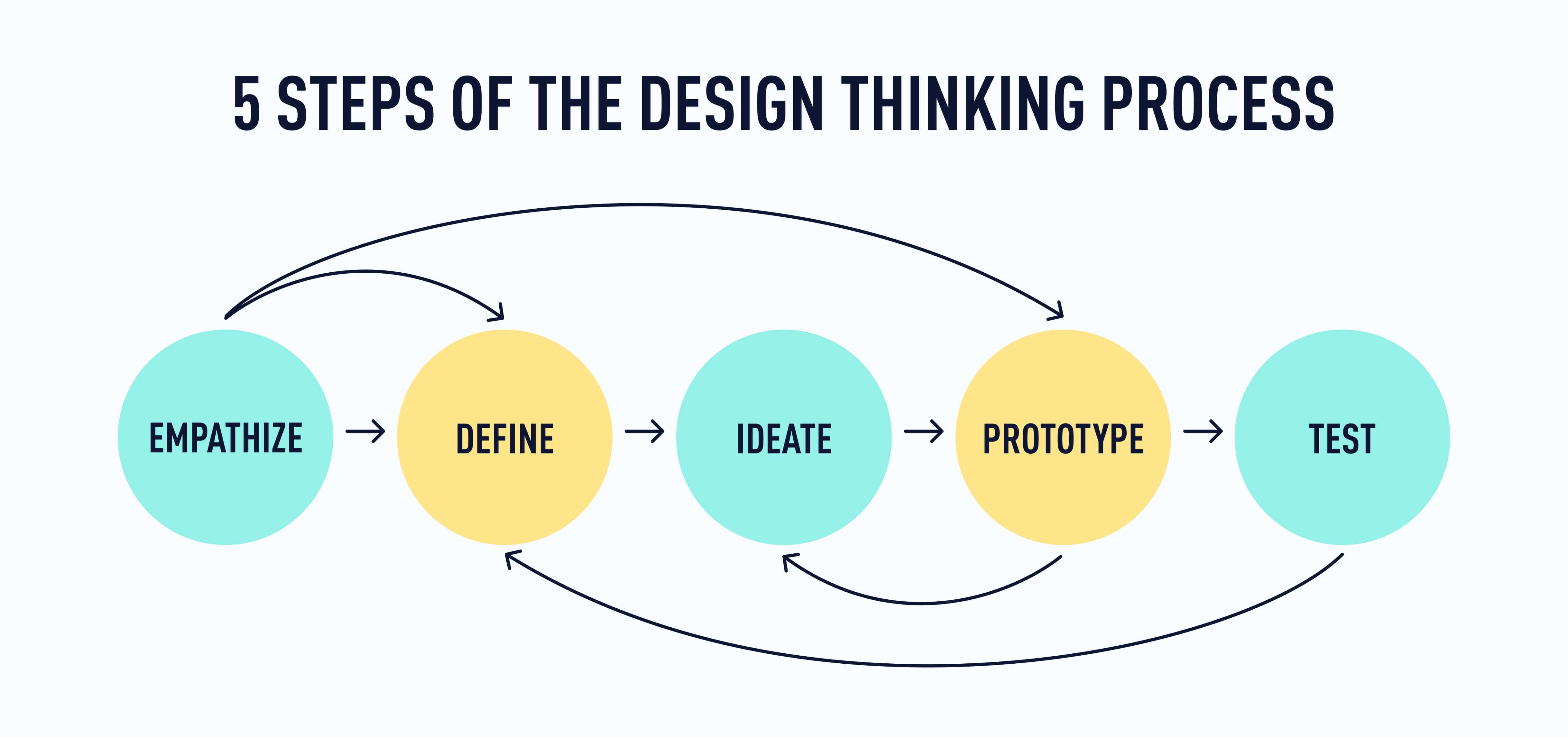 Take a moment to look back on all you've accomplished along the way!
During the empathize and define stages of the process, you reviewed some user research, synthesized it—either through your own notes/observations or with an affinity map— and created your own HMW statement to define your focus for the rest of the process.
Moving into the ideation stage, you learned about different ideation methods and then conducted your own ideation session using the Crazy Eights approach. You also came up with at least eight ideas for how to solve the problem in your HMW statement, and settled on one to carry forward into the next stage.
In the prototyping stage, you created a paper prototype of 1-3 screens in your app. If you were really enjoying this stage, you might have even created a digital prototype in Figma or Adobe XD!
Finally, in the testing stage, you conducted some user testing to find out either A) if your idea really resonated with potential users, or B) if an iteration on your idea was more effective on engaging potential users.
Everything you've learned and done in the course so far has been designed to give you an introduction and a hands-on look at what it's like to work in UX design. How have you liked it so far? Take a moment to reflect on which parts of the process you enjoyed most, and which presented more challenges or roadblocks. In the next sections, we'll review the core UX design skillset as well as what to do to cultivate that skillset and become a pro UX designer. As we dive into this, consider taking a few notes about:
Which skills you already have and which ones you'd need to develop
What your priorities and needs are as you consider bootcamps and other training options
You curiosities or uncertainties about UX design and what it will take to forge a career in the field
2. Next steps: What does it take to become a UX designer?
As you've probably already started to realize, a big part of the UX design skillset is made up of transferable skills—skills that you very likely have already had a chance to cultivate in other types of work. For many career changers at this point in the journey, it's encouraging to see that they've already got a lot of the skills they need. It can also feel a bit daunting to think about how to close the knowledge and experience gap and become a qualified UX designer. So let's break this down into some simple steps that you can take.
Step 1: Understand the core UX design skillset
We've already discussed this to some extent in Tutorial 1, but we want to share a more specific list of skills that you can use as a checklist for Step 2 in this process. Here's the core UX design skillset:
Soft skills: Skills you've already started developing over time.
Interpersonal, collaboration, and communication skills
Empathy
Curiosity and continuous learning
Critical thinking
UX design (industry) skills: Skills you'll likely need to learn to break into the industry.
Wireframing and prototyping
UX writing
Visual communication and UI
User testing
Crossover skills: Skills that reach into other aspects of business and product development that will give you a competitive edge.
Business acumen
Research skills and analytics
Customer service
Coding and development
You'll remember that some of these—UI design, UX research, UX writing, and business acumen (UX strategy)—are significant enough that they've become fields in their own right, and are worth your consideration if you decide to specialize after you build a strong foundation in UX design.
Read about all of these skills in more detail in our full guide: What Skills Do You Need to Become a UX Designer?
Step 2: Take an inventory of your skills
Now review the list in the previous section and check off the skills you've already learned. When you're considering transferable skills, it's important to remember that these skills sometimes look very different in daily work life. For example, a UX designer practices empathy in different ways than, say, a barista or a therapist. But the essence of the skill is the same: understanding where people are coming from and connecting with that perspective.
Chances are that most of your transferable skills are in the soft skills category—and that's a good thing! Industry and crossover skills can be learned fairly rapidly, but soft skills take a lot more time and practice to master. In fact, if there are soft skills you feel like you're lacking, you've probably identified an excellent growth opportunity that will impact your work and personal life no matter what career path you ultimately choose! The sooner you start working on those skills the better, as they tend to require a change in how you think, react, and approach problems.
Step 3: Identify your knowledge and experience gap
On a similar note, there's a good chance that the skills you need to develop are more technical in nature, like prototyping and user testing. These are essential to the work of a UX designer, so you'll need to learn these skills. The great news is that these are skills you can learn very quickly, and there are some approachable ways to get started in the learning process—which leads us to Step 4.
Step 4: Start learning and building your portfolio
Now that you understand the skills you already have and the ones you need to learn, you can come up with a learning plan—ideally, one that involves getting some hands-on experience.
A great place to start is by reading some foundational UX design books and blogs (like the CareerFoundry blog)—and don't forget to read some of the newer Design Thinking books as these will give you a sense of the conversations currently taking place in the industry. UX/UI podcasts are another great way to get in on these conversations, especially if you need to do some learning on the go.
It's also important to connect with other UX designers—whether they're aspiring to break into the field (good to have career change buddies!), or they've been working in UX for decades (or anywhere in between)! Connect with people on LinkedIn or other social media and see what they're working on and thinking about. This will do wonders for immersing yourself in the world of UX as you learn to really think like a UX designer.
When it comes to kickstarting a career in UX, though, nothing beats getting some rigorous and hands-on training from people who are seasoned in the field. The reason for this is simple: UX design is a highly practical field and you'll be hard-pressed to find any job posting in this field that doesn't require you to submit a UX design portfolio very early in the application process. Getting hands-on experience is absolutely essential—as is some expert advice on how to make that UX portfolio really shine.
Lots of career changers worry that this means they need to get a design degree in order to become a UX designer—but this simply isn't the case. In fact, more and more employers value the intensely practical approach of UX design bootcamps over traditional academic degrees in the topic. Why? Because bootcamps and similar certification programs focus on practical skills over theoretical insight—so employers can be more certain that candidates can actually do the job they're applying for!
As you consider UX design bootcamps, you'll find the options are a bit overwhelming. So let's very quickly break down the most important criteria for selecting the right UX training program for your career change. The very best UX design programs provide:
Excellent, relevant curriculum
Individualized mentorship and detailed portfolio reviews
Personalized career services
Student community and support
Transparency, credibility, and proof that it works
Let's look at each of these in a little more detail.
Excellent curriculum
Simply put, the quality of the learning materials will significantly impact the quality of the skillset you graduate with. The best UX design programs build their curriculum in-house with learning experts, as well as seasoned UX designers. The curriculum should be hands-on and skills-focused, giving you plenty of opportunity to get experience in the field—the kind of experience that you can showcase in your professional portfolio. Check out CareerFoundry's UX design curriculum as an example of this.
Individualized mentorship and detailed portfolio reviews
We can't say this emphatically enough: Do not underestimate the importance of having a UX design mentor. Mentorship is one of the best ways to not only get your career started, but to keep it flourishing. A great bootcamp will match you up with a mentor who will provide detailed feedback on your UX portfolio projects, and share from their rich knowledge and experience. Meet the CareerFoundry mentors to get a sense of how this kind of mentorship works.
Personalized career services
You can have the snazziest portfolio in the industry, but if you don't have a job search strategy and interview skills to match it, you won't get very far! This is why the best UX training programs offer individualized career coaching that starts before you graduate and can continue well into your career.
For example, CareerFoundry offers a free Job Preparation Course that pairs you with a career specialist in your area—they know the job market there and can help you refine your application materials and interview skills so you attract the right employers. Some of our graduates even reach out to our Career Services team years later for support as they negotiate salaries and take new steps in their careers.
Student community and support
Connecting with others in the field and having support as you build your new career is so very important. The best training programs will provide not only an expert mentor to provide industry insights and guidance, but also someone to help with any questions that come up along the way—whether it's about course content, billing details, professional development, or where to meet up with other UXers near you. CareerFoundry, for example, pairs you with:
A mentor to provide industry insights and guidance
A tutor to help guide you through the course content
Student advisors to assist with your program administration
A career specialist to provide support and advice as you begin your job search
And in addition to all of this support: Full access to an active student and alumni community (on Slack), as well as a smorgasbord of free online events on a wide range of topics—from how to start a career in UX to conversations with mentors and industry leaders like Headspace.
Transparency, credibility, and proof that it works
Finally, a UX design program should be transparent about its outcomes and willing to back that up in real ways. CareerFoundry's graduate outcomes, for example, speak for themselves, and we back our career-change programs with a money-back job guarantee. But you should also research bootcamp ratings on sites like CourseReport to see what their students and graduates have to say about the experience.
3. What to do now
Congratulations on finishing your final UX design tutorial!
If you've fallen in love with UX design along the way—or you're at least more certain that this could be a good fit for you—then check out our full UX Design Program. It's specifically designed to take you from beginner to pro UX designer in 10 months or less, with expert mentorship and support, a completed professional portfolio and job guarantee to boot!
If you'd like to learn more, schedule a quick chat with a program advisor—they can answer all of your program-related questions and help you figure out those next steps in your career change.
Now all that's left to say is that we're so proud of everything you've learned and created during this course—and we hope you feel the same way!
If you haven't already shared your work on social media, we encourage you to do so! If you've got an active LinkedIn account, this can be a great way to share your work with a professional audience.
And finally, if you'd like to check your knowledge, take this (optional) final test. If you score 70% or higher, you'll receive a 5% tuition reduction on the full UX Design Program!
Alana
Senior Program
Advisor